NAGS Society Dispatch Archives —
2008: Jan • Feb • Mar • Apr • May • June • July • Aug • Sept • Oct • Nov • Dec
---
December 28 - 31, 2008 — Reading Suggestions
And so we'll close out 2008 with some reading suggestions for the New Year:
A Voyage Long and Strange by Tony Horwitz concerns expeditions that are quite outside our timeline (200+ years too early) but is a fascinating read about the early exploration of the North American continent.
Living with Cannibals and Other Women's Adventures by Michele Slung is on my night stand as we speak, waiting for me to complete my journey with Horwitz. Here's the blurb my library provides:
The spirit of adventure sweeps through the chapters of this exciting volume as we encounter the inspiring, sometimes tragic, often humorous tales of adventurous women — from the 18th century to the 21st century. Selected from National Geographic's rich archives, this colorful group portrait pairs female adventurers of the past with their contemporary counterparts — in a "then and now" approach. You'll meet Arctic explorers — an American heiress who crisscrossed ice fields seven decades ago, along with a celebrated New Zealander who skied alone to both North and South Poles in the 1990s. You'll also join in the atmospheric exploits of Shannon Lucid and Amelia Earhart as they take off on those daring flights that wrote a new pages in the annals of aviation.
I recently Dispatched Safari by Bartle Bull but it's so stunningly good that I'll mention it again in case you missed it. If you have any interest at all in learning everything you ever wanted to know about the history and execution of safaris in Africa, Bull is your chap.

And thinking forward to when I've plowed through these, I was excited to read that Ed Teixeira's announcement on the Two Hour Wargames Yahoo Group that his long awaited pulp game Larger Than Life (you can see the cover on the THW Yahoo Group home page) will be out in "a week or two." If you'd prefer something available now to read, there is apparently a new edition of the free Skull Island rules for gaming King Kong/Lost World type adventures.

December 21 - 27, 2008 — Cthulhu, Cinematic West, & Japanese Pyramids

Wild West Cinema — Spectrum Games (who publish that game devoted to the nostalgic memories of misspent Saturday mornings, Cartoon Action Hour) have announced a new rpg for the spring: Wild West Cinema.

New Cthulhu — We have a new source for Call of Cthulhu adventures: Goodman Games has procured a license and will now produce CoC adventures using the Basic Roleplaying engine. The first in the Age of Cthulhu line is Death in Luxor.

Danger Magnet is a free pdf magazine offered in support of Exile Games' Hollow Earth Expedition, but useful for all pulp games. It's billed as a "writer's co-op," so one could contribute an article and help get the magazine ready for the ætheric presses.

Fudge Guide — It seems that there will be some consolidating of resources for the venerable Fudge Guide (which began on Phoenyx, so long ago). Other outlets for discussing Fudge include the Fudge Community Yahoo Group and the Fudge Forum.

Spirit of the Century SRD— I periodically forget and then pleasantly rediscover that, in addition to creating the fabulous pulp rpg Spirit of the Century, Evil Hat makes available the Spirit of the Century system reference document with all the bits that are open game content, so you can build your own pulp game.

Sunken Pyramid in Japan — Here's a good adventure starter from the ever-reliable National Geographic: a mysterious sunken pyramid in Japan.

NOVA — Here's a list of the public broadcasting service's NOVA television shows with an "explorer" theme.

December 1 - 20, 2008 — Slowly Catching Up…

Antikythera Model — Here is a great report on the working model of the Antikythera device that some chap has constructed. In true NAGS Society fashion, they're all colluding on the story that the deice's purpose is to calculate dates of the Olympic games. Only a select few know what happens when you replace those missing gears, and they are no longer in a position to tell anyone about it….

While they have always been available gratis, Marcus Rowland's Forgotten Futures VSF RPG is now available as a free download from RPGNow. Also gratis is a FF Compendium with some previously unreleased material.

Triple Ace Games is working on an RPG set in the strange world of a classic Victorian novel: Wonderland No More. An introductory adventure entitled An Egg of Seven Parts is available now (48pp, $12.99 US for the pdf).

And I had somehow missed the Triple Ace Games series of free pdfs on Terrain Building, which complement their Daring Tales of Adventure pulp RPG.

This time of year, Dover Publications always runs a sale on books they'd like to clear out of stock. They have several this year in their Bargain Bin that might be of use to gamers: Dinosaurs, Egyptian Ornament, Medieval Ornament… who knows, someone might have need of the fruit crate labels?

The reviewers at Ogrecave have posted their yearly roundup of gaming gift suggestions: The Ogrecave Christmas Gift Guide 2008.

November 23 - 30 — Star Gate to Rura-Tonga

Heroes of Rura-Tonga is an upcoming (Dec. 1) pulp supplement from Peter Schweighofer, using his generic Any-System Key. The adventures sound fabulous:
• "Island of the Damned" crash lands the heroes, along with a patrol of Japanese pilots, on an island inhabited by others castaways who satisfy their ravenous hunger by stalking the living.
• In "Ship of Ghouls" a derelict freighter mysteriously appears, threatening the settlement at Rura-Tonga with its horrid secrets: mutant abominations and a seemingly unstoppable plague.
• "Doom of the Lost Library" sends the heroes on a quest for a missing Indian treasure trove fraught with betrayal, ancient guardians, and divine magic.
• "Wrath of the Mountain Goddess" pits the characters against earthquakes, tribal superstitions, and a mischievous shaman on their mission to stop the island's volcano from erupting.
• In "Rockets of the Rising Sun" the heroes investigate and attempt to sabotage new Japanese military technology that could unbalance a coming war in the Pacific.
Schweighofer's Pulp Egypt received tremendous praise, so I expect the new book to be good as well. The site also features several free adventures.
Pirate Craft — Pirates are perhaps not as common during our timeline as one might like, but for those who have a lost island populated by piratical souls, Cianty's Tabletop Wargames Blog has an extremely helpful roundup up sources for ships for 28mm figures.
Castle Kits — I have (thus far) resisted the siren call of Hirst Arts molds for casting in plaster. If you'd willing to pay someone else to do the work, Castle Kits has some great terrain — the Egyptian tomb currently on the home page is a great example.
Star Gate — Matakishi's website features an article by a chap called Revford who demonstrates how to construct one's very own star gate, cunningly crafted using foam core and a few of those Hirst molds (although that bit could be done with pink or blue foam, I think, if one could carve bricks).
Lovecraft Prop Fonts — Here are a smorgasbord of fonts from the Cthulhu Lives website, perfect for creating those forbidden tomes, unexpected letters, cryptic newspaper articles, &c., and including one of Lovecraft's own handwriting!
Middle Eastern Buildings — Here's a tutorial from Olicanalad on how to scratchbuild middle eastern buildings.
The Brass Goggles steampunk blog has been quite active of late with a variety of great new links and images.
October 19 - November 22 — Sabbatical
I suppose this unavoidably lengthy hiatus in Dispatches could qualify as a sabbatical of sorts. Consider apologies to be tendered and let us move forward from here…
October 12 - 18, 2008 — Mythic to NaNoWriMo
Fudged Mythic — Mythic is an rpg with one particularly interesting component — a Game Master Emulator, which is intended to allow for game masterless play (both solo and multi player). I was pleased to find this Fudged version of the Mythic mechanic.
The Fudge Guide Wiki is a voluminous online repository for Fudge related resources, projects, and discussion.
Ancient Egyptian Virtual Temple has some computer generated scenes from an ancient Egyptian temple.
A religious website features some breathtaking images of Cambodian temples, including the famous carvings that are sure to represent dinosaurs.
American West is a helpful online resource for all things western.
Ray Rasmussen has taken some lovely photos of Anasazi ruins.
If you've still got that 50,000 novel aching to be written, November is, of course, National Novel Writing Month. Join the legions of folks on the NaNoWriMo website who will devote next month to writing.
October 5 - 11, 2008 — Pulp Tales & Pettygree
Ravaged Earth — Apparently, the resolution of the mess up with the Ravaged Earth Society pulp setting (originally from Double G Press), which was temporarily released as a "shared setting" via a Wiki page, is that some incarnation of it has been released commercially by Reality Blurs as Ravaged Earth. (Here's a link to a thread on the Pinnacle forums that explains what happened to the free material.)
The Campaigns Of General William Augustus Pettygree — "Gallia" has created beautifully illustrated blog to tell the tale of his solo colonial campaign in the (fictional) Hidden Valley of Surajistan. Here's what he has to say:
This is a photographic history of our on-going solo and participatory Colonial campaign set in 1898/2008. Chapter 4 has brief explanatory text at the beginning and a few questions, in case you might want to comment at the very end. Otherwise, the story is advanced by captions for each photo. Tis a serialized photo novelette.
Table Top Titans has an equally-lovely illustrated pulp campaign — Carlotta Wynn - Private Investigations — which is now in its fourth chapter. The site also includes rules and sundry that pulp players might find of use.
September 28 - October 4 — The Lost Continent of Mu
James Churchward's classic The Lost Continent of Mu is an absolute treasure trove of ideas for gaming. You've got a sunken continent, a precursor race, nearly all of the ancient peoples (Egyptians, Mayans, Polynesians, &c.) tied together… the list is inexhaustable.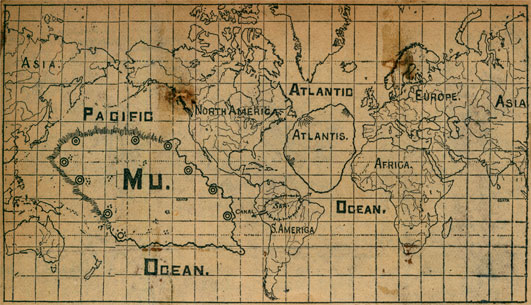 Map courtesy of My-Mu.com
You can learn more about Churchward and Mu in their Wikipedia entries. Churchward's grandson has put together a great resource in My-Mu.com. Churchward often cites Augustus Le Plongeon as an authority (and the Wiki contains the phrase "While his writings contain many eccentric notions which were discredited by later researchers…" so you know he's great).
September 14 - 27 — Lost to the Æther
I'm afraid that the Dispatches from this week are lost to the æther…
September 7 - 13, 2008 — SteamNoir to StarrySkies
SteamNoir is the website devoted to the breathtaking models of William Wardrop. You'll find a mix of historical craft as well as the stars of classic science fiction (Verne's Nautilus, for example).
Morgana's Observatory is one of those websites for which the æthernet was no doubt created…
Nefertiti — This website features a teasing tidbit concerning Adolf Hitler's obsession with Nefertiti, and includes a close look at a bust that, perhaps, Hitler desired to "enthrone" in a museum in Berlin.
Random is Good — Wikipedia is, as ever, useful for putting together a historical game, especially when one hasn't time to digest "meatier" historical works. I'm a great fan of random generation as a spur to imagination, and Wikipedia helpfully has a "Random Article" link which sends one to an unexpected corner of the Wikipedia.
Open Core Quick — Seraphim Guard, who were one of the early non-Grey Ghost companies to publish a Fudge game (Heart Quest, and they now have Gatecrasher as well) also publish Open Core Quick:
Open Core Quick takes the best elements of open content and boils them down to their essence, creating a system that is fast to play, easy to learn, and robust. While intended for at least one experienced gamer, a game master could easily teach the basics of Open Core Quick to inexperienced players in order to create characters and get a game started in minutes, not hours…

While based on the popular Open Core System, this game has been streamlined for ease of play, and designed for player character-centric game play. The characters are the important part of the story and the players are able to mechanically effect play through their choices. While gamers with experience with the Open Core System will be able to play this game with little effort, some conversion will be necessary for characters between the two systems.
Victoriana — Cubicle 7's Fantasy-tinged Victorian rpg Victoriana has a second edition. You can get it now in pdf form or in print later this fall.
News from Adamant — Adamant Entertainment (Thrilling Tales, MARS, and Imperial Age) has outlined their plans for their future, not d20 world. It would seem that Savage Worlds and FATE will be the systems of choice.
StarrySkies is helpful for identifying constellations, arranged by season of visibility (of course, I suppose that depends where one lives, doesn't it?) and including a bit of the mythology behind them.
August 31 - September 6, 2008 — All Fudge, All the Time…
Monster FudgeRPG Feed — In addition to the afore-Dispatched Fudge Community Yahoo Group (the files and links section of which are full of utile items), there is now an extremely handy Monster FudgeRPG Feed, which gathers in one spot a webful of links to Fudge-related information. It's a great time to be using the Fudge system for gaming!
Forgotten Futures.org — The latest offering in Marcus Rowland's classic VSF RPG Forgotten Futures is a bit of a departure: Tooth and Claw, based on Jo Walton's fantasy novel of the same name. One item of note is that Marcus has created a cardstock paddle steamer. As always, you can download all the material gratis and one should definitely register in order to support Marcus' years-long work in support of maintaining the popularity of VSF.
While he has not updated in awhile, Scratchbuilder_Christian's inspirational galleries of his work with 28mm miniatures on Displaced Miniatures runs the gamut of relevant genres, including Victoriana, Pulp, Old West, Back of Beyond, terrain, &c., &c.
Kolchak: The Night Stalker — As part of my quest to fill in the gaps in my 1970s television watching, I've recently started the series Kolchak: The Night Stalker. While not within the Terra Incognita timeline (set in the "modern day" circa 1974), it is nevertheless worthwhile viewing as it served as one inspiration for The X Files as well as being more darkly comic than the usual fare.
12 to Midnight — Those looking to game a Kolchak/X Files-type setting might have a look at the 12 to Midnight Pinebox campaign setting.
New Pinnacle Website — It looks like the Pinnacle Entertainment Group website has gotten a revamping. There's still a lot of stuff available for their popular Savage Worlds rpg — see the downloads page for an updated version of their free pulp adventure "The Eye of Kilquato."
One Monk Miniatures — If you like to use miniatures in your gaming but (like me) you don't have sufficient time to paint up the hordes of figures one needs for gaming, an interesting option is using cardstock figures. One Monk Miniatures focuses on fantasy and science fiction figures (of course) but one might find some of the offerings of use.
August 24 - 30, 2008 — Fudge Community Online
The Fudge Community — The Grey Ghost Press website provides some links to the new Fudge Community Yahoo Group.
Urbanized Amazon — It would appear that Scientific American has finally caught up with the NAGS Society, revealing the existence of ancient cities in the Amazon.
Antikythera & the Olympics — Recent reports speculate that the famed Antikythera Mechanism was intended to calculate the date of the Olympic games (learn about it from an appropriate site — Above Top Secret). The announcement is, one has to note, a little more mundane than one might hope, and interestingly timed with regard to current events….
The Extraordinary Adventures of Baron Munchausen — I have the original edition of this rpg and am thrilled to see that it is coming out in a new edition — the pdf is already available from e23. I have always thought that Munchausen would bew a perfect means to capture the humorous aspect of Terra Incognita (whereas one might use De Profundis for the more serious side).
ibiblio — Last week's link on MiniatureWargaming.com to In Parentheses, a site that hosts translations of world literature, reminded me that it's been awhile since I Dispatched the link to ibiblio, an online archive that one might find useful:
Home to one of the largest "collections of collections" on the Internet, ibiblio.org is a conservancy of freely available information, including software, music, literature, art, history, science, politics, and cultural studies. ibiblio.org is a collaboration of the School of Information and Library Science and the School of Journalism and Mass Communication at The University of North Carolina - Chapel Hill.
Rick Richards' website is a great online source for the "Truth" that all NAGS Society members know is "out there." How can one beat that interface?
The WD3 Wargames Community website offers some useful articles for constructing various terrain that folks who use miniatures might find of use.
August 17 - 23, 2008 — Deadwood Lives, et al.
Night of the Living Deadwood — The good folks at Hawgleg Publishing have released some undead gunfighter-type figures in anticipation of their new rules release: Gutshot: Night of the Living Deadwood.
Metacreator — Metacreator is RPG character management software (which, alas, runes only in Windows, though the new macs can easily run Windows, so perhaps when I save up my pennies I can actually try it…). I'm particularly grateful to the folks at AlterEgo Software as they were among the first commercial supporters of Terra Incognita.
Victorian Gadgets — London's venerable British Library is hosting an exhibition of Victorian Gadgetry. The TechRepublic website has some photos of the exhibits.
Brass Goggles — It seems that in the time the NAGS Society has been struggling to get back on the æther, the blog Brass Goggles has been going like gangbusters. Have a look at the plethora of great links from the past weeks.
Olmec Heads — When preparing your adventures set in the jungles of Mexico, you'll no doubt require some references for creating those mysterious, gigantic Olmec heads. Micah Wright's site has photos of them all.
Kobold's Guide to Game Design — Veteran game designer Wolfgang Baur (he wrote the Dark•Matter setting for Alternity, back in the day, and lot more since) has compiled a collection of his game design advice under one cover — Kobold's Guide to Game Design.
Seeds — Expeditious Retreat Press has a fairly extensive line of "Seeds" in a variety of gaming genres. These ebooks (each $1.75) consist of paragraph-long jumping off points that can spur your adventurous creativity.
August 10 - 16, 2008 — A Tardy Potpourri
Arabia Steamboat Museum — Far overdue on my part is the link sent along by Damon Bradshaw for the Arabia Steamboat Museum. Damon writes:
The Arabia was just one of the many hundreds of steamboats that sank on the Missouri and Mississippi rivers in the heyday of steamer traffic. It sank in shallow water with a hold full of prewar frontier supplies, and was found and salvaged in the late 1980s by a bunch of blue-collar treasure hunters who then took the almost 200 tons of nearly perfectly-preserved cargo and built a museum.

If you're ever in the Kansas City area with some free time, it's definitely worth the visit. I worked there for a few months as a tour guide, and it's truly a unique museum in a town full of great museums. I know it's given me no end of creative game ideas.
Ghost Towns — In a drier vein are these links from a story my local newspaper ran on western ghost towns:
Todd Underwood's Ghost Town site (which, lamentably, has music);
New Mexico Ghost Towns (which, thankfully, does not); and
Strange Engines — John Lamb sent along this link to his blog — Strange Engines — which treats "Civil War Steam Guns & Other Curiosities."
Julia Childs — The recent acknowledgement by the US government that a variety of interesting folks — Julia Childs among them — were agents of the OSS proves that the concept of the NAGS Society is not so wacky after all…
Larger Than Life — Two Hour Wargames is working on a pulp game — Larger Than Life — and has solicited for input in this thread on the Miniature Page.
August 3 - 9, 2008 — Broken Down Babbage
A broken down babbage engine prevented Dispatches in the the æther this week.
July 27 - August 2, 2008 — Morocco to South America, by Way of Hades County
Secrets of Morocco: Eldritch Explorations in the Ancient Kingdom is the next Call of Cthulhu sourcebook, due out in August.
June saw the pdf release of Chaosium's Gaslight Equipment Catalog — "Being a Compendium of Various Useful Articles and Sundries for the Victorian Era, Together With Information Pertaining to Their Use." The blurb continues:
This volume is more than just a price list: its aim is to provide both keeper and player with as much information as is possible within these few pages about the way people over a century past lived and worked -- the sorts of items that were available (and when they were invented), how they were used, even at times what people knew.
Hades County — Carmen the "Evilcartoonist" has created a fabulous blog about his western town Hades County, which he has lovingly handcrafted for 40mm miniatures.
Vulcania — This thread from the Miniature Page features some links to images of Captain Nemo's secret island, Vulcania.
Scriptorium — It goes without saying that computers and desktop publishing have revolutionized the production of rpg props and handouts (that's what they invented computers for, isn't it?). Having just the right font for your map, scroll, or newspaper clipping is of the utmost importance. The Scriptorium is a commercial site with a better quality of fonts than those you might find for free.
Map-A-Week — Judging by the dates, it doesn't seem that Wizards of the Coast have continued their long running Map-A-Week series since sometime last year. They have collected all of the maps into archives by year and one mega-archive of the whole collection.
Percy Fawcett — The extremely web-fu prolific denizen of the Miniature page Cacique Caribe uncovered a great collection of links concerning that old NAGS Society member, the mysterious Colonel Percy Fawcett.
July 20 - 26 — Victorian Census, London, UFOs, Mortal Engines, Desert Ship, and Weird California
Census 1891 — From the website: "As part of my research into Jack the Ripper, the 1891 London Census was extremely valuable. It provided vital clues as to the residents of the streets of Whitechapel in particular.
Since many other people are also continually searching for information from the 1891 London Census, I though I'd publish what I have transcribed so far.
I've now started transcribing the names and full details of the people living in London in 1891. I'm listing them by street, and it will eventually be fully searchable."
Timeline of a Mysterious Universe is as advertised. A handy chronology of interesting occurrences from the 5th century to the present day.
A UFO in North Texas — Here's a fascinating story from the UFO digest concerning a UFO crash in the north Texas town of Dublin in 1891.
Mortal Engines — There is an official website devoted to Philip Reeve's previously Dispatched steampunk/post-apocalyptic novels, the Mortal Engines quartet, which is helpful particularly for some of the sketches Mr. Reeve provides of how he imagines some of the craft featured in the novels.
Weird California — Folks with games set on the west coats of the USA might find some inspiration in the Weird California website.
A Sand Ship — Here's a great story from Scientific American in 1902 (via the blog Modern Mechanix) concerning a most utile vehicle — a wheeled ship that traversed the desert sands.
A Walk in History is an interesting new blog from a fellow who walks about that wonderfully historic city — London — and then recounts (with online resources) the history behind the modern artifacts he observes. The blog on a Great War zeppelin raid was great stuff.
July 13 - 19 — Apologies
I would love to report that a rip-snorting adventure has prevented me from transmitting in a timely fashion, but I am forced to admit rather that it was the mundane exigencies of employment which disrupted Dispatches.
July 6 - 12 — A Smorgasbord

I'll begin with a book suggestion: Safari: A Chronicle of Adventure by Bartle Bull. Mr. Bull seems to have read everything about the history of safaris in Africa from the early 19th century to the present day. He includes lots of "crunchy" information concerning weaponry, supplies, and techniques, including the apparently thorny debate concerning whether its best to lie still or actively resist while being mauled by a lion. With maps, illustrations, and sundry, this is by far the best book on hunting in Africa that I have encountered.
And, if one were going to game a safari, either the Dark Continent rpg or Jim Wright's miniatures game Adventures in Jimland would fir the bill.
Perhaps inspired by National Novel Writing Month (NaNoWriMo, which is November), July is Worldwide Adventure Writing Month or WoAdWriMo:
Whether you've never written an adventure before or have a hundred modules under your belt, why not join our effort to expand the pool of free stuff that GMs can use? WoAdWriMo doesn't require you to sign up and there are no crazy rules you have to follow. This website exists to cheer you on, to host your completed adventure if you want us to, and to help out in any way we can. Hit a snag in your adventure design? Got some writer's block? Want to share a cool bit you've come up with? Then swing by our forum and join the conversation!
Porphyria — Here's the Wikipedia entry on Porphyria, a rather curious disorder which has links to the myths of vampires and werewolves.
Here's a plan for constructing your very own pair of authentic leather and glass aviator's goggles.
I'm pinching this link from the VSF15mm blog, but it's worth mentioning twice. Who knew that there was a website devoted to Steam Traction — "America's only steam and threshing enthusiast magazine"? The article archives are particularly good, with bits on the Giffard Steam Dirigible, the Winans Steam Gun, et al.
Philip Reeve, who wrote the previously-Dispatched about novel Larklight also wrote a series of young adult science fiction novels called the Mortal Engines Quartet or Hungry City Chronicles. As the Wikipedia entry explains, the books are set in a far future when cities are mounted on huge caterpillar treads and move about the Earth eating one another. The characters are appealing and the technology is wonderfully anachronistic.
June 29 - July 5, 2008 — Tiny Terrain
Sometimes a body just has to model a tremendously large swath of terra incognita and yet make it fit on a reasonably sized gaming table. If you recognize yourself as one of these intrepid souls, then you are no doubt in need of some tiny trappings. While the size/scale of the follow items varies (1:1200, 2mm, &c., &c.), bits and bobs can often be successfully combined according to the "It's all so small— who's going to notice?" rule.
Irregular Miniatures comes to the rescue with an extensive line of 2mm terrain. Tony Hughes has thoughtfully listed the Irregular line and provided photos of nearly all of them.
Peter Pig's American Civil War Range 7 - "Hammerin Iron" includes a bit of 1:900 scale terrain (a fort, farm, city buildings, &c.).
Rod Langton offers a large range of 1:1200 scale buildings to accompany his line of Napoleonic ships. The site, unfortunately, provides drawings of said terrain rather than photos.
Here's a thread from the Miniature Page in which some folks share their insights, especially regarding Monopoly buildings, cunningy employed.
The Sea of Claws Yahoo group for Games Workshop's Man-o-War has an extensive archive which includes many useful suggestions for constructing small scale terrain.
If you're after a nautical setting, the Shifting Lands website is inspirational for its lovely Pirates of the Spanish Main table and accompanying islands.
When you've "zoomed out" to an incredibly small scale, Games Workshop's newish Mighty Empires tile sets can be of use. Here's an article about constructing your own hexes, useful for techniques on making your own small scale terrain.
June 22 - 28, 2008 — Lost Oracles to Haunted Graveyards
Origins — Ever-intrepid NAGS Society Member Dirk Collins will host a game of Terra Incognita at the Origins Game Fair this weekend. You'll no doubt want to make your way to Columbus, OH this weekend and join Dirk in the following adventure:
Friday Night June 27th 10 PM
Terra Incognita
The Lost Oracles — 1894, An ancient document found in the ruins of a newly discovered subterranean temple near Troy, A tantalizing clue to the location of another secret Temple of Oracles. A second clue as to the fate of the oracles at Delphi. Evidence that the Seers are active, even now, at the dawn of the Industrial age....
Larklight — I've Dispatched this book before, but this time I've actually read it: Phillip Reeve's young adult novel Larklight. It's of the Space:1889 / Aeronef / "Brits in Space" school of VSF, but I liked the adventurous plotting and I consider it a ripping yarn, well told. There is apparently a sequel — Starcross — and a third book in the series due out this year. A movie version of Larklight is also due this year.
A Utile Blog — This Dispatch concerns lack of news, but it it clear that, unfortunately, the ever-excellent VSF blog Yours in a White Wine Sauce has not been updated since April. The Boy's Own Adventure blog which was going like gangbusters for awhile is quite gone. However, the VSF and 15mm Sci Fi Wargaming blog presses onward with numerous updates, most concerning VSF or Steampunk in a general sense, utile for gamers of all sorts.
Firearms: Great Britain — For those interested in the more martial aspects of historical gaming, here is a collection of period articles concerning firearms in Great Britain. I was inspired by having seen this weekend two workhorses of the empire — a Snider-Enfield and Martini-Henry rifles.
Beaufort, NC — I recently spent a day in Beaufort, North Carolina, which is one of those lovely, old port towns in the middle south, and perhaps best known as the home port of the dread pirate Blackbeard. I've found guidebooks to the North Carolina Crystal Coast to have more (and better told) information than online sources, but here's a tidbit on the Hammock House (the town's oldest abode, apparently a boarding house in the 1700s frequented by Blackbeard, and replete with associated ghosts). And I strolled about the Burying Ground in a thunder storm, which was worth the visit to Beaufort in itself. Here's a website advertising a Ghost Walk which seems suitably atmospheric.
As a side note, it's probably quite obvious, but bears repeating, that travel books make wonderful resources for researching historical gaming adventures. They contain wonderful potted histories of a locale, generally including all the Good Stuff in order to attract one to visit. Probably those of the "off the beaten track" variety are more useful than those which focus on restaurants and shopping.
Finally, here's an About.com:Genealogy page devoted to Haunted Graveyards Around the World.
June 15 - 21, 2008 — Pulpy Potpourri
Perhaps in honor of the new cinematic adventures of one Dr. Jones, I've decided to do a little round up of some of the many possible rules one might employ for pulp gaming (both for miniatures and roleplaying):
.45 Adventure is fairly new, well supported, and comes with supplements for Super Science, Weird War II, the Back of Beyond (archæology in the Gobi desert, to be exact), and a new one concerning dinosaurs. There are quite compatible companions games for swashbuckling (Gloire) and pulp science fiction (Fantastic Worlds), and fantasy is due soon (Broadsword Adventures).
Adventure! from White Wolf comes with its original system or in a newer d20 version. It included a mechanic called Dramatic Editing which folks made a fuss about, although it accomplished the same thing as using Fudge Points, really.
Astounding Tales! is out in a second edition. It includes stats for Bertie Wooster and Jeeves, which alone makes it worth the price to me.
Daredevils is listed on the Fantasy Games Unlimited website as being in print. Wow!
Gumshoe is an rpg from Pelgrane Press. Have a look at the blog for more information. Ken Hite wrote the Lovecraft version entitled Trail of Cthulhu.
GURPS Cliffhangers would seem to be out of print. One might be able to track down a used copy, or, I imagine it will see life as pdf someday.
Justice, Inc. is an old-school rpg which one might find about second hand. Its modern incarnation is Pulp Hero.
Pulp Hero is a big, fat tome which is useful whether or not you use the system. Thrilling Places looks to be an equally worthwhile.
Spirit of the Century uses the FATE system, an offshoot of Fudge, and therefore great!
Here's a much more comprehensive list of pulp games, complements of the Pulp Project 1557.
June 8 - 14, 2008 — Ravaged Earth Released, et al.
The Ravaged Earth Society — Long promised and delayed, the Ravaged Earth Society pulp setting using Pinnacle's Savage Worlds rules has finally seen the light of day in a free Wiki-based format. Here's the blurb:
The Ravaged Earth Society is an RPG setting that combines the fast-paced action and sultry intrigue from the 1930s pulp novels and serials with horror and science fiction. Assume the guise of a seedy private eye, a crazed gadgeteer, a superhero with enhanced powers, a spell-wielding magician or a treasure hungry adventurer looking for glittering relics from antiquity or fighting evil cults or eldritch terrors!

The Ravaged Earth Society Online is a Shared World, where fans can contribute adventures, heroes, villains or anything that fits into this action-oriented pulpy setting. This wiki is also open to other creative output, including maps, artwork, figure flats or anything that would fit in the pulpy world of the Ravaged Earth Society.
Temple of the Forbidden Eye — Fans of the new Indiana Jones movie, and dedicated card modelers, might be interested in Disney's card model of the Temple. Clocking in at 56 pages of teeny, tiny parts, I would say only experienced modelers need apply.
Steampunk Rising is a brief illustrated article on the topic (particularly its current champions such as Jake Von Slatt) hosted by Channel Web.
Peter Beard — Born in 1938, Peter Beard came along too late for the TI timeline, but he serves as inspiration for the kind of adventurers who make for an interesting game. Part photographer, part socialite, part conservationist of endangered African fauna, and creator of some breathtaking diaries (they are works of art). I've just put a link to the basic Wikipedia entry. Google about a bit for much more information on Beard.
Pyramid Found — NAGS Society Members have no doubt been assiduously following the work of spiritual heir Zahi Hawass and his rediscovery of a missing pyramid constructed for obscure pharaoh King Menkauhor, 4,000 years ago.
Call of Cthulhu — For just $26.21 (there's an interesting price) one can download the pdf version of the most recent edition of a classic: the Call of Cthulhu 6/e rpg (322 pp.). Explorers Down Under might be interested in the pdf version of Terror Australis — Chaosium's CoC sourcebook for Australia:
TERROR AUSTRALIS includes three roleplaying adventures, "Old Fellow that Bunyip," "Pride of Yirrimburra," and "City Beneath the Sands," as well as extensive information about the Aboriginal inhabitants, their mystical concept of Dreamtime, inhabitants of the Dreamtime, Australian history, transportation in the 1920's, contemporary Australian slang, famous hauntings, and a special chapter analyzing the Dreamtime (Alcheringa) in roleplaying terms. Intended as a roleplaying supplement and useful in for any roleplaying game, TERROR AUSTRALIS also contains many pages of illustrations and maps to intrigue any Australia buff.
Dover Publications — Those in the market for quality images for creating rpg handouts and such can do worse than to have a look at Dover Publications, especially the books that are accompanied by CD. Egyptian Designs, for example, is on sale for $5.98, and I love my copy of Old Time Transportation.
June 1 - 7, 2008 — From Stonehenge to Ancient Rome
Adventurers in terra incognita have no doubt kept up with recent news concerning Stonehenge as a royal burial site. I've provided a link to the Washington Post article; a modicum of online searching will unearth loads more information.
I am an unabashed fan of random generators to spark creativity. The Seventh Sanctum website hosts a variety of them. The Gadget and Experiment generators would be of particular use, but you'll also have Martial Arts Moves, Darkness/Evil, and Lovecraftian Names at your fingertips. Of course, you have to generate many, many to get anything perfect, but the price is right!
The Lead Adventure Forum is a wonderful place to find like-minded souls to discuss miniatures and wargaming. There are sub-fora for all of our favorite genres: Colonial Adventure, Old West, Gothic Horror, VSF…
Strange Hybrids — To be honest, I'm not sure if this is helpful at all, but I suppose the enterprising might find use for a zonkey or wolphin?
This reprint from Discover Magazine in 1995 is sure to inspire: "Strange Molelike Animal Melts Ice Tunnels With Its Head"
Cryptoarchaeology is "the home of archaeological anomalies and ancient American artifacts"
This thread from the Miniature Page holds some helpful links for buying or constructing your own gladiatorial arena.
May 25 - 31, 2008 — Mysterious People to Places
Mysterious People provides tidbits about all of our favorites.
As an antidote to all of the current Indiana Jonesing, you might read Chick Lewis' account of his 1975 journey through Darkest Africa (hosted on Miskatonic.net) which includes, in chapter 12, the story of how he saw the Ark of the Covenant.
Viewzone is one of those online links clearinghouses that treats all our favorite hobby horses: "Conspiracies, New Science, Lost History," &c., &c.
Dazed Miniatures has a new line of 28mm creatures to populate your Lost World, including a family of mammoths, saber tooth, terror bird, bison, and the "woodland animal pack" which includes a badger, raccoon, squirrel, mole, rabbit, martin [I'll bet that's "marten"], and hedgehog. While they are a bit pricey, who can argue with a 28mm hedgehog?
Pulp City is well out of our timeline, set in a pulpy 80s, according to the newspaper on the website, but as a game of "pulp super heroes,' I imagine that one could mine the materials if your games tend towards the two-fisted type.
Invented Languages is a new magazine (published on demand through Lulu) that looks promising. The first number (48 pp., $5.75 US) contains:
A detailed and enthusiastic profile of a language that appeared in a 19th-century science fiction novel. A description of a young auxiliary language project which has had a few dozen participants. The "toolkit" (tutorial) column discusses an entire category of words that is sometimes overlooked by language inventors. Also: a news page; brief reviews of several relevant books; and an editorial about "the joy of ink on paper." This issue concludes with a mockumentary article about a language that builds all its words from an inventory of three syllables.
Mysterious Places — Wassmann photography provides some stock images of various iconic places of mystery. Perhaps a Google search could turn up more, better pictures, but these seem to be of reasonable quality.
May 18 - 24, 2008 — From Sothoth to Swami
Yog-Sothoth.com is a smorgasbord of choice Cthulhuiana;— of late, they feature the internet premier of a short film: "Casting Call of Cthulhu tells the story of some of the unusual encounters one can expect when casting for Lovecraftian films."
Frontier Wagons provides some inspirational images of some largish (from a gaming perspective) models of stagecoaches, covered wagons, even a hearse from the old west, which would serve as a perfect guide for painting.
History of Science — The University of Oklahoma website hosts a variety of interesting online exhibits concerning the history of science.
Victorian Riots — As a big fan of Irregular Miniatures' game of political unrest — Riot — I have been perusing the ever-useful Wikipedia page listing 19th Century riots, decade by decade in quest of historical inspiration.
Rippers — I've never played it, but the Savage Worlds setting Rippers — "Victorian horror in which bold monster hunters risk all to protect mankind from the terrible Cabal" — is well spoken of and seems to have amassed a little collection of eight books.
Gear Krieg — While Dream Pod 9's Gear Krieg RPG & miniature games are set a bit later than the TI timeline — in an alternate WWII, to be exact — many of the miniatures could be commandeered for other purposes. I especially like the Tesla turret.
Swami Vivekananda is one of those larger-than-life Victorian figures who are perfect for NPCs.
May 11 – 17, 2008 — Steamship, Sci-Fi, Submarine, Steam, and Sellers
Tramp Steamer Venture — If you haven't already this week, be sure to have a look at the slideshow of Chick Lewis' über-detailed 28mm tramp steamer Venture, inspired by the most recent version of King Kong and brought to life by the incomparable Richard Houston. At more than 2 feet long, it's obviously more of a gaming centerpiece than a typical "vehicle" and my goodness, how gorgeous. You can visit the Virtual Armchair General and have your own Houston ship or, apparently, commission Mr. Houston to create your own custom craft.
Pulp Sci Fi — Buck Rogers/John Carter style science fiction would seem to be the latest flavor du jour of pulp gaming. Blue Moon Manufacturing announced the pdf release of Chaos on Cronos (72 pp., $9.95 US). I have Chaos in Carpathia, the gothic horror version, a solid set of skirmish rules. Rattrap Productions has Fantastic Worlds (128 pp., $18 for the print version and $12 for the pdf). And Ganesha Games would seem to be playtesting "A Song of Mars and Venus" — there's nothing on the website but, I'm referring to a playtest report on the Ganesha Yahoo Group.
Deep Blue Sea — I've not been keeping up with "Grim's" latest pulp painting projects. The latest in Deep Blue Sea, a wonderful collection of beasties for an underwater .45 Adventure game. I have those sea creatures — Aquatic Familiars from Reaper — as they were suggested as sea monsters for Man-o-War, but, alas, they languish unpainted. Perhaps Grim's versions will serve as inspiration.
National Geographic — I no longer receiver the print magazine, but the website for National Geographic remains a potent source of inspiration for gaming. What other website brings together links to "bizarre, rare pygmy whale," "1,000 tombs," as well as current information on the catastrophe in Myanmar?
Rivets & Steam! — Although it has not been updated in some time, "Al's" Rivets & Steam webpage remains a useful resource for VSF gaming, especially using the GASLIGHT rules.
Ironclad Miniatures — Ironclad Miniatures is a UK-based manufacturer who produce a growing line of lovely 25mm miniatures (British in home service dress, for example, to repulse those martian invasions), cobblestone roads in sections, and especially, VSF tanks. Some of the terrains bits are also available in 15mm and 20mm versions.
Editing Two Hour Wargames — I meant to mention it ages ago, but Terra Incognita editor Janice Sellers has been engaged by Ed Teixeira and Two Hour Wargames as editor. There was an extremely friendly welcome to Janet on the THW Yahoo group awhile back if you care to search for it. All our best to Janet and we know that forthcoming Two Hour Wargames are in capable hands.
May 4 – 10, 2008 — A New Format
While I would love to explain the pause in Dispatches as due to my being called away on various secret missions for the NAGS Society, the rather prosaic explanation lies in the twin calls of family and employment. Rather than continuing to send Dispatches back in time to keep up Daily appearances, I will attempt a new format: Weekly Dispatches. I'll make every effort to post on Sunday morning with a roundup of interesting tidbits.
100 Dark Places — Post Mortem Studios has a growing series of "100" books: RPG supplements to inspire adventures. The newest is 100 Dark Places: "100 horror locations for your modern horror games, each with an attached description, the horror that lurks within and a handful of scenario suggestions to get you going." It is available as a pdf for $7 US. Other books in the series include fantasy kingdoms and planets, as well as sci-fi, fantasy, and horror adventure seeds.
Cthulhu True20 — Reality Deviant Publications has secured a license to publish a Lovecraftian RPG using the True20 system. The core rulebook as well as three supplements (Elizabethan era, ancient Sumeria, and post-apocalyptic) are planned for 2008.
Uncharted Seas — This one is rather hard to explain in a pulp/VSF blog, but I have long been an enthusiast for Games Workshop's Man-o-War naval wargame (but missed its heyday, and thus I have none of the original minis). A company called Spartan Games is set to release a new "fantasy naval wargame," complete with miniatures (including submersibles, airships, terrain, &c.). I'm certain that an enterprising GM could find ways to file off the fantasy serial numbers and bring them into to the world of Terra Incognita.
Map-a-Week — The D&D Map-a-Week archive remains an excellent resource for useful (and attractive) maps to adapt for your adventures.
Wargames Minis — I believe Wargames Minis used to be Wargames, Inc. (with the "Spear to Rifle" url) and have recently relocated to Tennessee. They sell Dixon and Essex miniatures, Hovels buildings, Wargames Illustrated magazine, and various other useful miniature lines.
Victorian Recipes — Here are a couple of sites featuring Victorian era recipes: Victorian Recipes and Parties from Victoriana and Victorian Recipes from the Lexington Middle School. Could one propose to explore terra incognita without a basket full of cucumber sandwiches? I should say not!
1920s Theme Party — Dinner and a Murder.com provides some useful information on hosting a 1920s theme party with recipes, fashion tips, &c.
May 3, 2008 — Thrilling Expeditions: Valley of the Thunder Lizard
Rattrap Productions' latest supplement for adding dinosaurs all of its rules systems (.45 Adventure, Gloire, and Fantastic Worlds) — Thrilling Expeditions: Valley of the Thunder Lizard — is now available to download as a pdf for $12 US):
Thrilling Expeditions: Valley of the Thunder Lizard allows players to play big game hunters in a lost valley populated with creatures from before the rise of man, or have their pirates going ashore on an island where Neanderthals battle Saurians, or time traveling tourists suddenly stranded in Earth's distant past.
May 2, 2008 — Squid Autopsy
The accidentally-caught colossal squid that has been on ice for quite awhile was autopsied in New Zealand. Googling about will no doubt turn up a wealth of information. Here are links to the Discovery Channel's site as well as the Museum of New Zealand Te Papa.
May 1, 2008 — The Tsar's Batmobile
The VSF and 15mm Sci Fi Wargaming blog has posted a great article from Military Modeling on that great Russian tank with the huge wheels. You might recall a cardstock version is also available.
April 30, 2008 — Two-Fisted Tales
Two-Fisted Tales: The Pulp RPG has been around in various forms for years. You can get its current, revised incarnation, from Precis Intermedia Games as a pdf for $9.95 US and pick up a collection of pulp villains for free.
April 29, 2008 — Scouring Pad Tree
If you use miniatures of a small scale (10mm or smaller) for your gaming, here is a tutorial for creating passable trees using a scouring pad and screw.
April 28, 2008 — Arnica, Montana Transfers to Texas
The press release on the Miniature Page gives all the juicy details on the acquisition of the Arnica, Montana line of western buildings by Hawgleg Publishing. The NAGS Society offers its best wishes for this inter-state real estate transfer.
April 27, 2008 — Secrets
The first supplement for Colonial Gothic — CG: Secrets — is due out in May. The website has a short preview. Here's the blurb:
They hide in the shadows of the hallows. They lurk in the alleys of New York. They slink along the docks of Charleston. What are they?

Secrets.

From societies, to hidden magic, secrets beat through the veins of the colonies.

Some may think they know everything that has transpired in the colonies, but they are wrong. There are dark things afoot. There are those with vengeance in their heart who seek to unleash it. There are creatures prowling the shadows awaiting to entangle the unsuspecting in their maws. There is evil flowing in the wind.

Secrets.

Secret history. Secret plots. Secret agendas.

These are the secrets of Colonial Gothic.
April 26, 2008 — Mission to Mars
Marc Anderson — author of Fantastic Worlds (pulp sci-fi wargame from Rattrap Productions) — has created a wonderful webcomic using miniatures: Mission to Mars.
April 25, 2008 — Castle Falkenstein
This is a rather old but still helpful primer on a classic rpg that I haven't thought about in quite awhile — Castle Falkenstein. I can tell the page is old because he mentions Terra Incognita as being in playtest…
April 24, 2008 — Journey to the Center of the Earth
We again turn to the Wikipedia for an excellent entry on Verne's classic Journey to the Center of the Earth (which, I learned today, is being made into a new film starring Brendan Fraser.
April 23, 2008 — The Streets of Shanghai
The Streets of Shanghai is an excellent Wiki page devoted to the pulp-perfect Shanghai of the 1920s.
April 22, 2008 — The Adventures of Sir Peter
I periodically return to the exploits of Sir Peter de G for plentiful gaming inspiration.
April 21, 2008 — Pyramids & a Shootout
Here are a couple of collections of inspirational images. The first is of some Egyptian-flavored terrain, complete with a pyramid in the jungle. Thoroughly impressive! The second is a good, old-fashioned shootout in a wonderful scratchbuilt town. Note the carpet squares for the ground.
April 20, 2008 — Tournaments, Fairs, and Taverns
Tournaments, Fairs, and Taverns was written for roleplaying the "games within the game" in fantasy rpgs, but I'm certain that enterprising souls could adapt it to more modern fare.
April 19, 2008 — Inspirational Western Scratchbuilds
Here are some images of some great scratchbuilt western buildings, complete with detailed interiors.
April 18, 2008 — Cartography DVD
Butch Curry of Zombie Nirvana Games, and Photoshop cartography guru, has announced that he has decided to do his cartography book as a DVD instead. Whatever the format, I'm looking forward to more advice on how to make great looking maps.
April 17, 2008 — Pen & Paper
Pen & Paper is a great rpg-related resource. The expansive database of game writers, illustrators, editors, &c. alone is worth a look.
April 16, 2008 — Steam and Trenches
Here's a blog I hadn't run across before — Steam and Trenches — "an exploration of Victorian Science romances, 'The Great War', and Steampunk."
April 15, 2008 — World Works Games
As I've not done any cardstock terrain building in awhile, I haven't kept up with WorldWorks Games. They now have quite a range of buildings and other terrain pieces that could of use: Hellworks, Hellworks II: Cathedrae Noctis, and Gothic Realms all look interesting. Bits from the modern set and the fantasy stuff could serve in a pinch, as well.
April 14, 2008 — The Complete Guide to Prehistoric Life
The Complete Guide to Prehistoric Life, being "an encyclopedia featuring 111 of the prehistoric animals from the Walking With series, as well as an additional one," looks to be an extremely utile reference work.
April 13, 2008 — Steampunk Star Wars
The same fellow who constructed those wonderful "steampunked" superheroes has done it again, this time with characters from Star Wars.
April 12, 2008 — The Drains of Canada
An August, 2007 entry of one of my favorite blogs — BLDG BLOG — features an interview with urban explorer Michael Cook and images of subterranean Canada.
April 11, 2008 — About African History
The About.com site on African history features a variety of articles (none too demanding) on various topics from the ancient to recent— for example, the colors of ancient Egypt.
April 10, 2008 — Language No More
One never knows when this will come in handy: here is a list of ancient and extinct languages. The Wikipedia page on Extinct languages is also a help.
April 9, 2008 — Harappa.com
Harappa.com is an excellent website detailing India's Ancient Indus Civilization, including images of the fascinating city of Mohenjo Daro, the "Mound of the Dead."
April 8, 2008 — The History Place
The History Place is a useful website for finding historical filler for your campaigns — timelines, historical photographs, &c.
April 7, 2008 — Hexpaper
I suppose that most folks' computer skills make this sort of thing unnecessary, but this free web page creates pdf files of hexpaper for you to use in creating your old-school hand-drawn maps.
April 6, 2008 — True20 Vehicles
Reality Deviants Publications have released a 13 page pdf preview of their upcoming Vehicles sourcebook for the True20 system. I have always had a weakness for vehicles books and the True20 system is easily Fudgeable. The gamut of vehicles covered in the book seems to run from primitive to the future, so there are bound to be interesting things for TI gamers.
April 5, 2008 — Mutants and Death Ray Guns
I'm on extremely tenuous ground here, relevance to genre-wise, but I heartily recommend Andrea Sfiligoi's post-apocalyptic wargame Mutants and Death Ray Guns. If you need to bring it into the realm of Victorian Science Fiction, consider crossing it with Forgotten Futures V: Goodbye Piccadilly, Marcus Rowlands' excellent treatment of Victorian apocalypse fiction.
April 4, 2008 — Crescent Root Studio
Crescent Root Studio sells some fabulous wargames terrain. Even if you prefer to make your own (as I do), the images are inspirational.
April 3, 2008 — Ancient Nuclear Blast
Ancient City Found In India Irradiated By Nuclear Blast 8,000 Years Ago... This definitely warrants investigation by the NAGS Society.
April 2, 2008 — Undersea Adventures
Recalling the NAGS Society's mandate to explore the hidden depths of the ocean and inspired by yesterday's reminder of the forthcoming Aquanef, I decided to roust out all of my links to various undersea adventuring games. To wit:
Aquanef, from Wessex Games and not yet available will be the submarine component of Les Guerres Extraordinaires VSF universe (which already includes Aeronef, Land Ironclads, and Voyages Extraordinaires).

Aquazone is another free game on the web, also with inspirational images. The rules are based on Full Thrust.

Beneath the Waves was a game in development from Planned Movement Production. The site included a draft of the rules and some cool images of their largish submarines, some constructed from Pringles cans! The Beneath the Waves stuff is all gone from their website. I was able to resurrect some of it using the Wayback Machine (thanks again for the reminder, Warren, and to Mr. Peabody for inventing it) though you'll have to dig through all of the listed files to find the relevant files, should you care to. The Wayback link to the former index for the site doesn't lead directly to the individual files.

Depth Factor was another free online game, also based on Full Thrust. I could get to the index easily via the Wayback Machine, and I'm certain with diligent digging, one might unearth the remainder of the site's information.

Stingray is free online, based on an English television show. The website has rules and lots of inspirational imagery of a scratchbuilt undersea environment.
April 1, 2008 — Land Ironclads
Helping one to take VSF battles to a new level (and a smaller scale) is the forthcoming Land Ironclads from Wessex Games. You can already fight battles in the skies with Aeronef and dispatch characters on adventure with Voyages Extraordinaires. At some undisclosed future point one will be able to venture beneath the waves with Aquanef.
March 31, 2008 — Rumbledrome
Aside from the annoying sound file that accompanies it, Rumbledrome is an otherwise-excellent website that includes information on early race cars. One such car, which looks as though it had its origins with a Gadgeteer in the NAGS Society, was dubbed the Golden Submarine.
March 30, 2008 — Project Exploration
Project Exploration is a Chicago-based nonprofit that helps get kids interested in science. The website has a bit of interesting information, particularly on paleontology.
March 29, 2008 — Prehistoric Message Board
If you're in need of a little inspiration for your gaming, just browse through some of the recent threads on the Miniature Page's Prehistoric Message Board (and there are numerous other boards with great ideas, too — I just picked this one to mention). You'll find the Mokele-mbembe, Antarctic adventures, Pellucidar, &c., &c. If you dig around a bit, there's links to some great online cartographic resources, examples of scratchbuilt terrain, suggestions for role-playing adventures.
March 28, 2008 — A Foray into Terra Incognita
It was always my intention for gamers to customize Terra Incognita and to use it as a starting point for bringing their own vision to life. For example, if you don't like the NAGS Society's silly name, toss it out and substitute something better.
Warren Shultzaberger, long-time pulp GM, sent along some notes concerning his pulp game, which he has graciously agreed to share with other gamers:
I've been playing NAGS for quite some time now in my Fudge Pulp game. All the characters are members and it serves as a great source for adventures. The history is a little different though. I wanted it to have a little more of an Illuminati type feel to it so I had NAGS start off with the burning of the Great Library in Egypt. The surviving librarians saved some of the books but much was lost. They decided form 'NAGS' to preserve historic knowledge from the ravages of time and mankind's violent nature.

The players have only found out some small clues of the society's lengthy past. For the most part they still think it's a pretty young organization (originating in Victorian times).

So far the society has displayed knowledge of:
The Spear of Destiny.
The Philosopher's Stone.
Ark of the Covenant.
Mayan Valley of the Vanished (Doc Savage's source of wealth. He's a member, by the way).
Eldorado's location.
Atlantis & Lemuria.
Shangri-La.
The truth of the Lost Roman Legion and the missing Roanoke colonists.
Pellucidar.
Lost African land of Kor & knowledge of Ayesha.

The society stopped faking the death of it's members because there was a huge ruckus when Sherlock Holmes was recognized years after his 'death' (Member Sir Arthur Conan Doyle worked quickly to explain the great detective's comeback). Members are now required to keep their membership top secret from the world at large.

Famous people who were/are members:
Dr. Clark Savage, Jr. and his crew (including Pat Savage)
Richard Henry Benson (until the loss of his family)
Nemo (underwater specialist)
Allan Quatermain
Sherlock Holmes
Dr. John Watson
Sir Arthur Conan Doyle
Sir Percy Blakeney (Scarlet Pimpernel)
Sir Richard Francis Burton
Lovecraft (expert on the Cthulhu and other mythos)
Houdini
Lord Greystoke (when he's to be found)
Plus many other famous names through out history.

Tons and tons of fun.
Years ago, Warren also wrote an excellent article on GMing Pulp Games which can be found on Grey Ghost Press' Gamemastering Secrets website.

Thanks, Warren, for all of the pulpy inspiration and we look forward to hearing more!

March 27, 2008 — Dino Hunt

Here's an illustrated report of a dinosaur hunting expedition from the Stourbridge & District Wargames Club.

March 26, 2008 — Way Back

In search of a fabled lost Interactive History website, the intrepid Warren Shultzaberger reminded me of the utility of the Wayback Machine — a website that takes periodic "snapshots" of the web so that you can unearth those lost websites.

March 25, 2008 — Old West Buildings

Here's a step-by-step tutorial from David Marshall on how to scratchbuild Old West buildings.

March 24, 2008 — Articulated Rot & Steam Launched Drivel

Articulated Rot & Steam Launched Drivel is the steampunk branch of the incomparable Old West building purveyors at Arnica, Montana. There are some extremely inspiring (and illustrated) after action reports.

March 23, 2008 — Whitewash City

Setting aside for a moment the thorough wonderfulness of his cardstock buildings buildings themselves, Eric Hotz has done a service for the Old West gaming community by assembling his massive collection of Whitewash City links. Anything you might want to know about gaming the Old West can be found in Whitewash City (and I don't think this is hyperbole — I think he's got everything!).

March 22, 2008 — Miniature Wargaming is Five

Another of my favorite online destinations has celebrated a birthday. Miniature Wargaming.com (read the press release on TMP) has been providing daily links to items of interest in the wargaming world for five years! I well know the challenge of finding things on a daily basis (and I've been falling down on that job of late) so my hat is off to a wonderful resource.

March 21, 2008 — 15mm VSF Updates

The VSF and 15mm Sci-Fi Gaming blog has had a number of recent entries that warrant close perusal; they've also recently celebrated a year in existence. Many happy returns!

March 20, 2008 — The Great Crystal Cyberdrome Exhibition

Have a look at the Beyond Cyberdrome 2008 site for details on The Great Crystal Cyberdrome Exhibition.

March 19, 2008 — New at Knuckleduster (& More)

Forrest Harris emailed to say he's got a few new items for the Old West at Knuckleduster: some new minis, including one with a lasso (added, said Forrest, specifically for the "lasso" rule in Legends of the Old West) and I love the Virtual Tour of his western town. Once you're in that western mood, you might drop by Matakishi's website for another look at Davestown and then stop by Hawgleg for rules (Gutshot) and many great free adventures.

March 18, 2008 — Gladiator Arena

Anyone in the market for an arena for gladiators to battle might have a look at this thread from the ever-helpful Miniature Page.

March 17, 2008 — The Universal General

The Universal General is Rudi Geudens' excellent wargaming site, wherein one will find an abundance of inspiration.

March 16, 2008 — Saurian Idol

In support of Rattrap Productions' new "Lost World" supplement Thrilling Expeditions: Valley of the Thunder Lizard (paperback, $18 US), Hydra Miniatures has come out with a lovely Saurian Idol ($5 US) for those lizard folk to worship.

P.S., The reenactment at Guilford was wonderful;— there were lovely uniforms and flintlocks aplenty (my new enthusiasm) and, I hadn't even thought of it, cannons, which absolutely shook the earth. This wasn't a big anniversary — apparently the 225th a few years back was something to behold, but for my first big battle, I was impressed. Well worth looking into if you have reenacting in your corner of the world.

March 15, 2008 — Guilford Courthouse

It's right out of our timeline, but I am again excited to see some historical reenacting, this time a full battle. The pivotal Battle of Guilford Courthouse was fought today in 1781 and I shall pop over to the battlefield to take in some history. I've never seen reenacting on this scale and am quite eager. I shall report back anon. If one has any interest in gaming this period with miniatures, Pendraken has released a new line of 10mm figures that would serve admirably.

March 14, 2008 — Wold Newton Chronicles

It has been an era since we have Dispatched a link to P.J. Farmer's excellent Wold Newton Chronicles website. Historical gamers can find plot hooks aplenty using all those favorite characters from the last two hundred years.

March 13, 2008 — Heliograph

While there does not seem to be any new word on the long-promised Zeppelin Age, Heliograph, Inc. remains the publisher for some Space: 1889 and Forgotten Futures material.

March 12, 2008 — Swat HQ

I've long mused upon a Car Wars-style game set in the early Twentieth Century — kind of a Mad Max in a Tin Lizzy type thing. If you want to see what's out there in the more traditional post-apocalyptic auto duel genre, have a look at Swat HQ: Alternative Auto-Combat Tabletop Games.

March 11, 2008 — Fort Zinderneuf

The incomparable Matakishi has posted the pdf as well as some excellent photos of Peter Helm's Fort Zinderneuf, originally published in Practical Wargamer. There are also plans on the Colonial Battles Yahoo group from "Mister Palmtree" (they're in the Files section under Colonial Architect.

March 10, 2008 — Fictional Places We Love

"… Travel guide to our favorite film, literary sites." I wish my local paper ran features like this. Travel writer Spud Hilton (a great pulp name, by the way) of the San Francisco Chronicle has collected a list of places he'd love to visit from cinema and literature. Among them is, of course, Maple White Land.

March 9, 2008 — The Imperial Age: London

Adamant Entertainment has pioneered the market for pdf RPGs released in bits and pieces. They have both pulp — Thrilling Tales — and Victorian — The Imperial Age. They have recently release a sourcebook for Victorian London, which, from the preview, boasts some thoroughly useful maps.

March 8, 2008 — Dungeon Tiles Mapper

If you enjoy using miniatures in your gaming and you want some full-scale 2D terrain in a hurry, you might try the free Dungeon Tile Mapper from Wizards of the Coast (for D&D, of course). You can create custom tiles with all sorts of corridors and traps, then print them out for use with your minis.

March 7, 2008 — Merrimack Old Glory Shipyard

If you're in the market for ships in a variety of historical periods and scales, you can do little better than making a trip to the Merrimack Old Glory Shipyard.

March 6, 2008 — Perils on Planet X

Perils on Planet X is a forthcoming pulp comic in the Burroughsian vein by Christopher Mills and Gene Gonzalez. The site also boasts a free online comic, Lair of the Science Witch. Perfect for gaming with Rattrap Productions' Fantastic Worlds.

March 5, 2008 — An Iron Anniversary

We mark the 6th anniversary of Dispatches on the Terra Incognita website, which is apparently to be characterized with iron and sugar, and odd mixture, but no doubt of critical importance to some mad genius somewhere.

March 4, 2008 — A Great One Passes

I can't let this day pass without noting the passing of one of the "founding fathers" of roleplaying — E. Gary Gygax. Roleplaying games have given me innumerable hours of pleasure in my life and Mr. Gygax is played an incomparable role in getting them started. Requiescat In Pace, good sir.

March 3, 2008 — The Art of Rough Travel

From Fudge creator Steffan O'Sullivan comes this suggested reading: The Art of Rough Travel: From the Peculiar to Practical, Advice From a 19th Century Explorer.

I should note that various and sundry exigencies, some benign and others nefarious, conspired to keep the NAGS Society off of the ætherwaves for these past few days. Please pardon the pause in communications.

March 2, 2008 — RPG Marketplace

RPG Marketplace looks to be a free, Ebay-like site for auctioning one's RPGs.

March 1, 2008 — Trail of Cthulhu

It would seem that Ken Hite's most recent take on Lovecraft — an RPG entitled Trail of Cthulhu — has been released. You can get it from Chaosium and elsewhere.

February 29, 2008 — The Horseless Age

According to the Didik website, The Horseless Age was "The world's first automotive magazine, published from 1895 to 1918." The website has a few scans of pages so that you can see what they were writing about cars when they were new.

February 28, 2008 — Aviation History

The Suite101.com website offers some articles concerning aviation history, including this one on the Hindenburg disaster and this on ornithopters.

February 27, 2008 — Damned Human Race

Gabriel Landowski's Damned Human Race website features several tutorials for constructing wargaming accoutrements, as well as his new book Miniature Gaming Vol.I.

February 26, 2008 — Catastrophism

Philip R. "Pib" Burns has put together a fascinating website concerning one of his hobby horses: catastrophism.

February 25, 2008 — An Interactive Update

Regarding the previous Dispatch on Interactive History, Ib Underwood from Phoenyx.net emailed to say "The game that Juuso started - Celandra the Unyielding Land - is still very much alive and kicking and over a decade old. I've been playing it for 7 years now, and its one of the best, most creative and most imaginative rpgs I've ever played."

It's thoroughly refreshing to see that good games can persevere — seven years is impressive — and that the Fudge Interactive History material continues to be played.

I will also mention that if you haven't had a look at the "Planets" on Phoenyx, they are extremely cool — collections of blogs concerning Fudge, Steampunk, and the Phoenyx regulars.

February 24, 2008 — VMSF

The Virtual Museum of the City of San Francisco is perhaps the next best thing to a visit to the city by the bay.

February 23, 2008 — Historical Reenacting

Wargaming and roleplaying are but two means of immersing oneself in history. This afternoon I enjoyed observing a bit of historical reenacting in the town near my house, Hillsborough, NC. It was as bit earlier than the TI timeline — American War of Independence, to be exact, as General Cornwallis apparently spent some time occupying the town. The famous battle of Guilford Courthouse occurred about an hour west of here and there were folks called the Regulators who were up to something or another. I'm sure there are numerous reenacting sites on the web — here is one: Reenactor.net.

February 22, 2008 — Colonial House

Here's another one of those great PBS companion sites to their television programs: Colonial House.

February 21, 2008 — Interactive History

Although I never saw it, Aria was apparently a game for roleplaying the evolution of am entire culture through time. There is an extant Fudged version called Interactive History in Fudge and if you Google for Aria and Interactive History and whatnot you can turn up some discussions from years back— here's one such. It seems like a fascinating concept — gaming on the macro level.

February 20, 2008 — Casting in Resin

I had to nick this one from MiniatureWargaming.com: the blog UltraWerke has an extremely informative tutorial on casting in resin. I did it myself awhile back — I created some 15mm building fronts in a Matakishi-inspired manner and cast them in resin. It's not as hard as one might think (that depends on the shape of what your casting, of course) and certainly saves time. I was trying to save myself the task of cutting out a zillion little square windows.

February 19, 2008 — A Hollow Earth Contest

Exile Games has announced a contest in support of its rpg Hollow Earth Expeditions and their forthcoming magazine Mythic Eras. One is to create a Dinosaurs' Graveyard (they lay out the parameters for the encounter) for a modest prize, a copy of the magazine, and all the glory. Here are the details, and you only have until March 8 to write it, so get cracking!

February 18, 2008 — The Heliograph

The Heliograph is a blog devoted to "Second Life Steampunk and Victorian Musings."

February 17, 2008 — Make

I haven't seen an issue yet, but Make magazine looks inspiring, especially for the scratch-builder types. I believe it's a print magazine, but there seems to be quite a bit of online content as well, including the obligatory blog.

February 16, 2008 — Pirates

If you can't find a way to include pirates in a game set between 1850 and 1940, then you're just not trying hard enough! Here are two tutorials for making useful bits:

February 15, 2008 — Steampunk on NPR

It seems even staid National Public Radio has caught the Steampunk bug.

February 14, 2008 — Golgo Island

Partaking of a different vein of humor than TI, East Riding Miniatures' Golgo Island looks fabulous for tongue in cheek pulp fun.

From the website:
Golgo Island is a place of mystery and riches, of dangers and plots, of adventure and romance. From all over the vast world surrounding it and beyond, adventurers of all kinds flock to fulfil astounding missions or undertake unbelievable quests, facing unsuspected opponents - human, animal, mutant, extra-terrestrial… Or other!
There are a number of resources:
The Miniature Page press release, including pictures of the forthcoming miniatures;
the Golgo Island website, including a map and history;
the War Engine-based free rules; and
February 13, 2008 — Google Earth Community
The Google Earth Community looks to be an interesting collection of fora that employ, to educative effect, Google's online cartographic resources. Sadly, my Babbage Engine is too ancient to view these satellite images that everyone talks about, but the maps serve as worthy back-up.
February 12, 2008 — Mysterious Carvings in Indonesia
Here's a tidbit from the blog "Beyond Truth" concerning some mysterious stone carvings in Indonesia.
February 11, 2008 — 15mm VSF
If you've not checked in for awhile, the VSF and 15mm Science Fiction Gaming blog has lots of great inspirational stuff, including reports from an ongoing campaign.
February 10, 2008 — Datamancer
Datamancer is Richard Nagy's website featuring his spectacular steampunk/retrofuture modifications to computers, bass amps, et al., which have made the rounds, including all the way to Newsweek.com! [Suggested by Brian Courtemanche].
February 6 – 9, 2008 — Recent Ætheric Roundup
The mundanities of employment have prevented me from Dispatching (and from accessing the æthernet, for that matter) and so I offer this roundup of the items of interest that have developed in my absence:
Steamnoir — Making the rounds was the link to this cavalcade of William Wardrop's scratchbuilt "Steamnoir" vehicles;
And, from Zeb Cook, the chap who posted the Steamnoir link on the Miniature Page, comes two links to information concerning historical submarines: the Alligator and Ictineo;
Valley of the Thunder Lizard — March will see the release of Rattrap Production's Lost World supplement (good for .45 Adventure, Gloire, and Fantastic Worlds) Thrilling Expeditions: Valley of the Thunder Lizard;
Fudge Dice — Digital Alchemy made available a Fudge Dice Roller for the Palm OS;
Gothic Glow — A mad scientist is making available a limited supply of his handcrafted, wood and brass Mad Scientist Lights
February 5, 2008 — Carmen's Fun Painty Time
… Is a treat among blogs showing off finely-painted miniatures and craftily-constructed terrain. His recent Nile Steamer is thoroughly impressive but I particularly enjoy the 40mm western town he built. The gun shop on this page is a pure joy.
February 4, 2008 — Tombs Travel and Trouble
Here's a book in the spirit of Terra Incognita — Tombs Travel and Trouble: "Follow true stories of a turn of the century archeologist dealing with natives, headhunters, poisonous snakes, dead employees, and a stranded ship with no water. All in a days work while trying to discover the link between Mayans and Polynesians." Even the series sounds promising: Resnick's Library of Worldwide Adventure. [Suggested by Brian Courtemanche — thanks for all the help this week!]
February 3, 2008 — Winchester Mystery House
Built for rifle heiress Sarah Winchester, the Winchester Mystery House was begun in 1884 and construction continued until her death 38 years later. The house included oddities such as stairs that dead end at the ceiling. Brian Courtemanche, who passed along the link, also notes that there is a Call of Cthulhu adventure based on the house in the sourcebook The Secrets of San Francisco.
February 2, 2008 — An American Stonehenge
Our Intrepid Correspondent in the Northeast, Brian Courtemanche has unearthed a link to America's Stonehenge:
Built by a Native American Culture or a migrant European population? No one knows for sure. A maze of man-made chambers, walls and ceremonial meeting places, America's Stonehenge is most likely the oldest man-made construction in the United States (over 4000 years old).
Many thanks to Brian for keeping the Society informed!
February 1, 2008 — Into the Lost World
Gaming the Lost World seems to be on many minds these days. Here are a couple of helpful links that popped up on the Miniature Page.
Rich (.45 Adventure) Johnson kindly explains how he fashioned some Lost World terrain from cork and CDs; and
Phil Robinson shows off some of his impressive terrain building skills (the Lost World stuff begins on page 3; this link is as close as I can get you, though all of the terrain is worth a look-see).
January 31, 2008 — Chronicles of New Commerce
Rich (.45 Adventure) Johnson has embarked upon a pulp web comic dramatized with miniatures entitled Chronicles of New Commerce, hosted by the ever-affable Matakishi.
January 30, 2008 — Sewer History
We've Dispatched this one before, but it's worth remembering: Sewer History: "The purpose of this website is to house this dynamic collection of materials about the evolutionary development of sewers over the past 5500 years."
January 29, 2008 — 10 Towns & Villages & Another Plug
Butch Curry of Zombie Nirvana Games has released a collection of his fabulous cartography: 10 Towns & Villages. The maps are generic and sufficiently customizable to be of use to historical as well as fantasy gamers.
Also, it wasn't until this weekend that I found the time to listen to his Fantasy Cartography podcasts. Wow! The techniques are reasonably easy and produce fabulous results. I'm just in the "messing about" stage now and so have nothing to share, but I will when I muster something presentable. I'm using Photoshop Elements, which, at about $100, is the most Photoshop I can afford, but nearly all of the basic techniques Butch teaches are possible. He teaches you how to whip up maps comparable to those you see in the better published games or the Map A Week downloads from Wizards of the Coast. I'm extremely inspired to make maps!
January 28, 2008 — World Explorers Club
It's been years since I let my subscription to the magazine lapse, but one can still recommend David Hatcher Childress' irreplaceable World Explorers Club. In the current number, for example, Mr. Childress considers a 1909 article in the Phoenix Gazette (reprinted here in the Spirit of Ma'at) which reports the discovery of an Egyptian tomb in the Grand Canyon.
January 27, 2008 — Paleo-Future
Paleo-Future.com — "A Look Into the Future That Never Was" — is a fascinating blog that looks at advertising, fashion, media, &c. of the past and how we have conceived our future. It's (handily) organized by decade, and there's a related Google Group for discussion (which, unlike Yahoo groups, doesn't seem to require joining anything).
January 26, 2008 — Shieldwall
I'm currently painting the fabulous 28mm Foundry Darkest Africa miniatures I bought about seven years ago and which have been unjustly relegated to the bottom of the mountain of unpainted lead. One notable inspiring site is Jon Ward's Shieldwall.
January 25, 2008 — Ship Fittings Aplenty
Reviresco has a plenitude of fittings for completing your 28mm scratchbuilt ships and an assortment of mixed media kits (cardstock and metal) were that to suit you better.
January 24, 2008 — Warflag
Warflag is a venerable resource I like to Dispatch now and again — indispensable for creating flags to fly over your miniature empires.
January 23, 2008 — British Battles
For those whose campaigns have a more military bent, one online resource is BritishBattles.com. The website features history, timelines, illustrations, &c., &c.
January 22, 2008 — Secrets of the Surface World
Exile Games has released its first book in support of Hollow Earth Expedition, entitled Secrets of the Surface World. From the website:
This sourcebook expands Hollow Earth Expedition to include the mysterious and perilous surface world, filled with dangerous criminals, mad scientists, and dark sorcerers! Become a daredevil pilot, private detective, or wandering hero, exploring exotic locales and thwarting evil plots. Meanwhile, world powers and secret societies vie for control of what may be the most important discovery in all of human history: the Hollow Earth!
January 21, 2008 — Valley of the Pharaohs
While cleaning out the game closet, I happened upon a printout from a great pdf released free from Palladium Books awhile back: Valley of the Pharaohs. It was apparently a boxed set, quite old school rpg for roleplaying adventures in Pharaonic Egypt. It is of particular interest to Victorian/pulp gamers for its useful history of ancient Egypt, various timelines, names and dates of pharaohs, illustrations of houses, temples, and tombs, and MAPS!
January 20, 2008 — War of the Worlds RPG
Here is a nearly decade-old site with loads of information for gaming Wells' War of the Worlds.
January 19, 2008 — Into Africa
I have a recommended read concerning the golden age of African exploration: Into Africa by Martin Dugard. The book specifically concerns the historic meeting of Livingstone and Stanley. The author mentions Livingstone's swirling style of exploration, and imitates it a bit in his story-telling, but he makes stops along the way with all of the important characters: Burton, Speke, Baker, &c., &c. You'll find a lot of useful details on the organization and behavior of safaris and a wealth of characters that one might encounter on the Dark Continent.
January 18, 2008 — A Motherlode of Western Resources
There has been a motherlode of resources released for gaming in the old west. To wit:
Add on rules from Blue Moon Publishing to convert Chaos in Carpathia (which I own and enjoy) to a gunfighting skirmish game;
new figures from Knuckleduster, including Wild Bill Hickok and a feller with a LeMat (a nine-shot .40 caliber pistol with a single-shot 20-gauge shotgun mounted under the pistol barrel, for which you'll find complete Fudge stats on page 67 of the irreplaceable Knuckleduster Firearms Shop);
The latest free Shootouts & Showdowns adventure from Hawgleg: The Great Drygulch Bank Robbery; and finally
Dave Bezio completes his series of articles on creating Davestown: a western gaming table on the cheap as a guest at Matakishi's Tea House.
I've updated my western gaming site Triggernometry to include these new releases.
January 17, 2008 — RPG.net Game Index
The venerable (by internet standards) gaming site RPG.net hosts a game index, which is handily sorted by subject. Here is their list of "Victorian Age" games, thoughtfully including Terra Incognita.
January 16, 2008 — The Phrase Thesaurus
The Phrase Thesaurus is just another utile online resource. Type in the phrase, saying, or idioms you wish to learn more about — "to play ducks and drakes," for example— and you get a pithy little précis.
January 15, 2008 — Test Drive the Explorer's Edition
While Pinnacle's Savage Worlds Explorer's Edition is extremely affordable at $9.99 US for either a printed or pdf version, you can get a taste with the free Test Drive — click here for the direct pdf download. I've always found the Smiling Jack witticisms annoying ("Listen up, knuckleheads," &c., &c.), but Savage Worlds seems like a solid set of rules, is easily compatible adaptable with Fudge, and boast loads of support, fans, and material in a variety of genres.
January 14, 2008 — Board Game Geek
The Board Game Geek website has expanded into an encyclopedia of all sorts of games, including RPGs. Everything is nicely categorized for browsing, and there are lists of people's favorites. Here, for example, is a collection of "Free-to-print games that might actually be worth printing."
January 13, 2008 — Fudge on the Fly from Zombie Nirvana
Butch Curry's Zombie Nirvana Games has been doing a regular podcast on fantasy cartography using Photoshop. Delving deeper into his website reveals some great Fudge related stuff, including a great variant called Fudge on the Fly. He's also got some stuff for Savage Worlds (which is easily Fudgeable), particularly a bestiary called Savage Beasts.
January 12, 2008 — Future Race
While the rules were written for gaming the pod races from the first Star Wars movie, Jamie Davis' Future Race is a nice, simple set of rules for racing things. He (and Christ "GASLIGHT" Palmer) have provided some modifications for magic carpet racing, for example, and one could easily modify them for any type of VSF contraption.
January 11, 2008 — Patrick's Hobby Shed
Patrick's Hobby Shed has a nice section devoted to Victorian Science Fiction, including several exciting After Action Reports and some clever advice for converting toys (from Wild, Wild West and the Incredibles, for example) into proper VSF contraptions.
January 10, 2008 — Trail of Cthulhu
Ken Hite's new Lovecraft-inspired rpg for Pelgrane Press — Trail of Cthulhu — is due on February 1. The game will support, according to the website, "both Pulp (for Indiana Jones, Robert E. Howard, thrilling locations sorts of games) and Purist (for intellectual horror and cosmic dread). HP Lovecraft's work combined both, sometimes in the same story."
January 9, 2008 — Gaslight Justice League
And this one comes directly from our friends at Brass Goggles concerning one of my favorite concepts for a game: Victorian superheroes. In this case, they are scratchbuilt "action figures" of a Gaslight-era Justice League.
January 8, 2008 — Pluck. Courage. Jingoism.
Though we're well scooped by Yours in a White Wine Sauce, the NAGS Society welcomes another VSF inspired blog: Boy's Own Adventure! And, of course, one recognizes that bit of the cover from Space: 1889.
January 7, 2008 — Symbols.com
Suggested by the ever-informative Dirk Collins, Symbols.com is an online collection of "more than 1,600 articles about 2,500 Western signs, arranged into 54 groups according to their graphic characteristics." Browse a bit and you'll get the idea.
January 6, 2008 — H.P. Lovecraft's Commonplace Book Project
The Illuminated Lantern (responsible for the computer text adventure game 1893: A World's Fair Mystery a few years back) are at work on H.P. Lovecraft's Commonplace Book Project — "interactive adventures based on the unfinished story ideas that H.P. Lovecraft collected in his 'Commonplace Book.'"
January 5, 2008 — The Year in GURPS
I've not kept up with Steve Jackson Games in years, but a glance at the releases from last year (scroll through) shows that you can pick up a number of their classic "3rd Edition" releases as pdfs. To wit, Steampunk, SteamTech, (Ann Dupuis's own) Old West, Dinosaurs, &c., &c.
January 4, 2008 — Monsterquest
The History Channel has a show (which I've not seen) devoted to our favorite crypto creatures entitled Monsterquest. When I was a lad, we had the wonderful In Search Of…, narrated by Leonard Nimoy.
January 3, 2008 — Mystery of the Anasazi
Double G Press has been working on The Ravaged Earth Society, a pulp game using the Savage Worlds system, for quite some time. Last fall they released a free introductory adventure, Mystery of the Anasazi.
January 2, 2008 — Expedition Resources
The Exile Game Studio (Hollow Earth Expedition) website has a section of Expedition Resources that Terra Incognita players and GMs might find useful. For example, I had never seen this handy doohickey that spits out custom newspaper clippings, for use as player handouts, of course.
January 1, 2008 — Æther Traveller
Æther Traveller is a website and accompanying Yahoo Group dedicated to the Game Designers' Workshop system, which includes the venerable sci-fi game Traveller, and, more germane to our purposes, Space: 1889. The website includes a collection of links concerning Victoriana and Victorian Adventure Gaming.